All Events
9 May 2022 • 20:00 - 21:00 | Online
Inaugurial lecture by Julia Merlot
Journalist-in-Residence-Programm
Within a few weeks, SARS-CoV-2 spread around the world, killing about six million people in the first two years of the pandemic. Could modern intelligent systems help prevent or better manage such escalations in the future?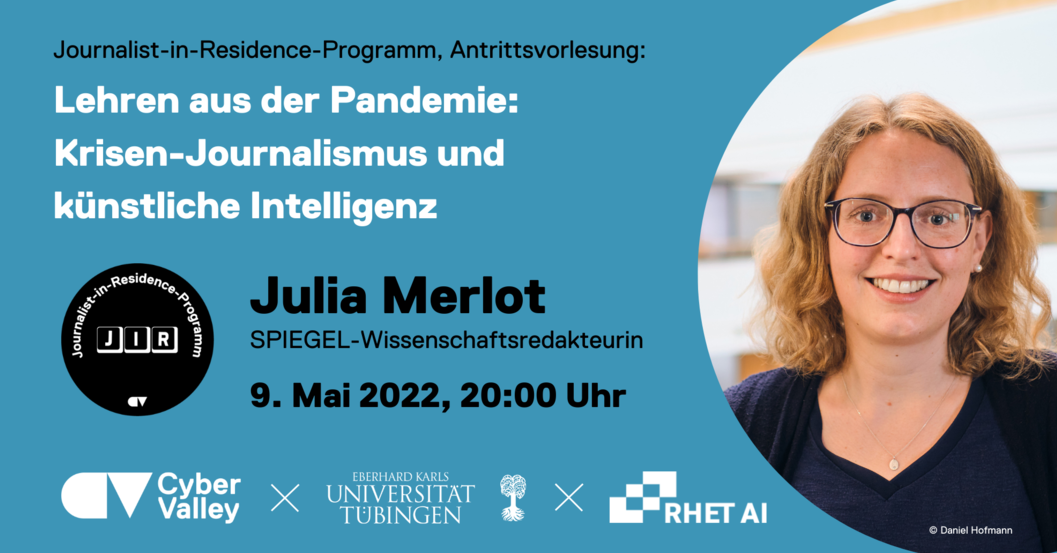 "Spiegel" science editor Julia Merlot has intensively documented the course of the pandemic in her journalistic work. Now, as Cyber Valley Journalist-in-Residence, she wants to find out how intelligent systems can find their way into practice for a better management of future pandemics.
Crisis journalism and the use of artificial intelligence against new pathogens
In her inaugural lecture (in German), she will talk about the unique challenges of Corona reporting and present the topics and research approaches of her three-month residency in the Cyber Valley ecosystem. The lecture will be streamed live and for free on the official Cyber Valley YouTube channel starting at 20:00 CEST on May 9, 2022.
Julia Merlot has been an editor in the knowledge department of the news magazine "Der Spiegel" (formerly "Spiegel Online") in Hamburg for eight years. Previously, she wrote for "Zeit Wissen" and "Geo Wissen", among others. Her main topics are in the field of life sciences and, since the outbreak of the Corona pandemic, have been primarily concerned with the spread of the virus and its medical consequences.
About the Cyber Valley Journalist-in-Residence Program
In a three- to six-month residency, a science journalist on leave for this program explores how AI applications can be used meaningfully for good journalism. Or how journalists can report appropriately and evidence-based on the technologies behind the buzzword "artificial intelligence". The journalist selected by an independent jury will determine the topic and question themselves. The program is a collaboration with the Center for Rhetorical Science Communication Research on Artificial Intelligence (RHET AI Center). It is funded by the VolkswagenFoundation.
Contact
Patrick Klügel – Public Engagement Manager
Mobile: + 49 151 74238237
Email: patrick.kluegel@cyber-valley.de
Video