All News
26 September 2023 |
How is AI changing journalism?
Examining the impact of media reporting on artificial intelligence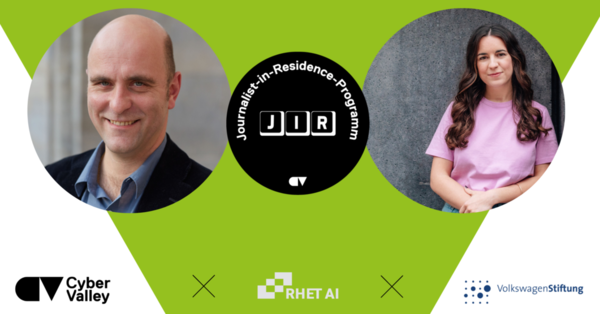 Cyber Valley welcomes Elena Riedlinger and Tobias Asmuth to the fourth round of Journalist-in-Residence program.
Beginning in October 2023, the winners of this year's Journalist-in-Residence program will research ways to make sense of artificial intelligence in journalism.
During their three-month residency in Tübingen, the two journalists, Elena Riedlinger (data journalist) and Tobias Asmuth (freelance journalist), will examine the influence and impact artificial intelligence has on today's society. Both applied for the 2023 Journalist-in-Residence program and won. 
Thanks to the collaboration between the Center for Rhetorical Artificial Intelligence Science Communication (RHET AI) and Cyber Valley, journalists can conduct research on their own topics related to artificial intelligence reporting. The Volkswagen Foundation supports the Journalist-in-Residence program. 
The program gives journalists the opportunity to dig deep into the research of intelligent systems, including machine learning, computer vision, and other AI applications, that is being undertaken at Cyber Valley. During their residency, both journalists will conduct independent research on AI development and its potential, with direct access to researchers and entrepreneurs from the Cyber Valley community.  
Elena Riedlinger wants to use AI against disinformation
As a data journalist, Elena Riedlinger is concerned with the spread of disinformation on the internet and identifying ways to detect it.
"The central task of journalistic research is fact-checking. But how do journalists manage to fulfill this task despite the flood of AI-generated content? And can AI tools possibly help them? That's what I want to find out at Cyber Valley," says Elena Riedlinger. 
In particular, the rapid advancement of AI tools that generate text, images, and video presents journalists with new challenges in assessing the authenticity of content: it has become more difficult to verify alleged evidence and to make factual claims. AI can help solve this problem. During her residency at Cyber Valley, Riedlinger will talk with experts about the methods and AI-powered tools that verify content and ensure reliable information for editorial work.
After completing her master's degree at the University of Leipzig, Elena first joined WDR for a traineeship, where she now works as a data journalist and in digital product development at the interface between journalism and IT. Together with Stefan Domke, she recently oversaw the Grimme Online Award-winning app and web project "Stolpersteine NRW – gegen das Vergessen". 
Tobias Asmuth explores the benefits of AI for the climate
As a freelance journalist working mostly for the DACH region, Tobias Asmuth has in recent years dedicated his work to the research of environmental issues. During the Journalist-in-Residency program, he will investigate how intelligent systems can reduce or even prevent climate change. Furthermore, Asmuth wants to explore how journalists can communicate and explain difficult topics, instead of falling into sensationalist reporting that overemphasizes risks and scandals.  
Tobias Asmuth further explains, "Most people have a fairly clear idea of climate change. Their picture of AI, on the other hand, is rather diffuse. How could this be drawn more clearly? In what words would we have to describe it?" 
His goal is to create guidelines for well-grounded reporting on artificial intelligence that inspires public interest. Tobias hopes to answer the following questions: What information about an AI application should a journalist pay attention to? What indications of relevance are there? What needs to be explained for the audience to understand? 
Tobias Asmuth resides in Berlin. He has previously worked as a reporter for the Süddeutsche Zeitung and completed his traineeship at the Frankfurter Allgemeine Zeitung. He has been awarded prizes and scholarships for his reporting on a planned lithium mine in Portugal and the overexploitation of the Amazon, among other things. 
About Cyber Valley 
Cyber Valley is Europe's largest and leading research consortium in the field of artificial intelligence (AI) and modern robotics. Cyber Valley has a public mandate: As advocates for entrepreneurship, research, development, application, and acceptance of technologies and methods in the field of intelligent systems are at the forefront. The company envisions a future where the full potential of intelligent systems is leveraged for the greater good of the world.
About Cyber Valley Journalist-in-Residence 
In a three-to-six-month residency, one or two journalists explore how AI applications can be used for good journalism and how journalists can ensure that their reporting on the technologies behind the buzzword "artificial intelligence" is appropriate and evidence-based. The journalists are selected by an independent jury.  During this time, the journalist-in-residence can conduct research on a topic of his or her own choice in exchange with AI researchers from different disciplines - absolutely independently. Cyber Valley explicitly does not expect any reporting on AI topics or about Cyber Valley during this time. The program takes place twice a year in a cooperation between Cyber Valley and the Center for Rhetorical Science Communication Research on Artificial Intelligence (RHET AI Center). It is funded by the Volkswagen Foundation. 
Related Articles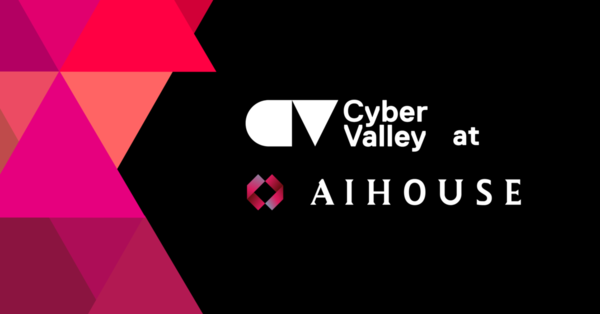 20.11.2023
The International Forum for AI Progress at the World Economic Forum 2024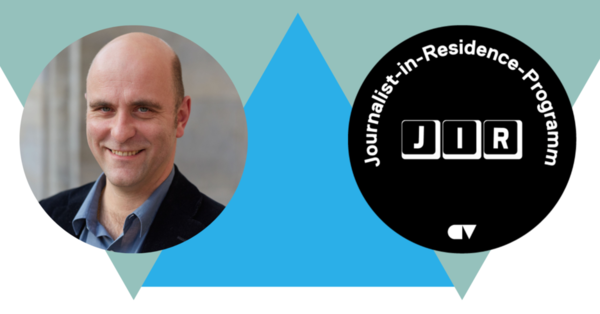 02.11.2023
6 Questions for Cyber Valley's Journalist-in-Residence Tobias Asmuth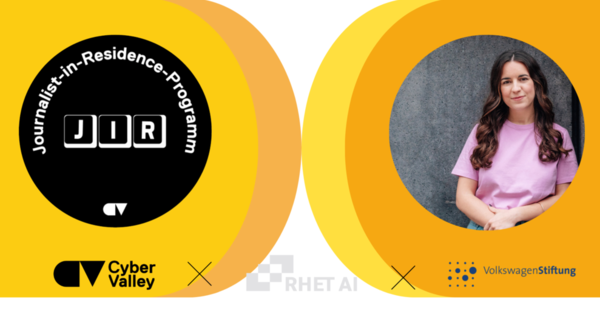 02.11.2023
Cyber Valley interview with Journalist-in-Residence Elena Riedlinger