All News
10 July 2020 | Stuttgart
Sebastian Trimpe appointed full professor at RWTH Aachen University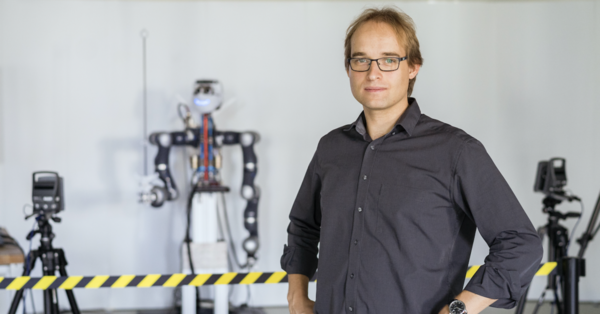 Sebastian Trimpe, head of the Cyber Valley Intelligent Control Systems research group, and robot Apollo balancing a rod
The Cyber Valley research group leader has taken on the "Data Science in Mechanical Engineering" chair
Stuttgart – Sebastian Trimpe, head of the Cyber Valley Intelligent Control Systems research group at the Max Planck Institute for Intelligent Systems (MPI-IS) in Stuttgart, recently took on a full professorship (W3) at RWTH Aachen University, the largest technical university in Germany. He is now Professor for Data Science in Mechanical Engineering and has begun building the corresponding institute, which he also heads. Over the course of the next year, Trimpe will transition his research group in Stuttgart, where he will keep a co-affiliation.

"Leading my Cyber Valley research group has been an exciting chapter in my career. I have enjoyed working closely with everyone within the ecosystem since I joined MPI-IS in 2013. I am grateful for the opportunities I have had at the institute, and especially for all the great colleagues and collaborators," says Trimpe.  
"Sebastian's academic success is exactly what we hope for from Cyber Valley," says Michael J. Black, Director of the Perceiving Systems Department at the Max Planck Institute for Intelligent Systems and Spokesperson of the Cyber Valley research consortium. "The independent group leader positions and the world-class Cyber Valley research ecosystem give young scientists the opportunity to establish their careers at the very top of their field.  Training and supporting the next generation of scientific leaders is our core mission.  Whether they go on to academic jobs, industry positions, or start their own companies, this strengthens Germany's position on the global AI playing field."
 
Cyber Valley is Europe's largest research consortium in the field of artificial intelligence (AI) with partners from politics, science, industry, and society. The partnership strengthens research and teaching in the fields of machine learning, computer vision, and robotics as well as the links between these scientific fields. Partners are the Max Planck Institute for Intelligent Systems, the University of Stuttgart, the University of Tübingen, the Fraunhofer Gesellschaft, the State of Baden-Württemberg and seven industrial partners.

Trimpe and his team investigate what he refers to as "machine learning for machines": the fundamental question of how a machine is able to learn from data reliably, safely, and efficiently within certain limits. More specifically, his research focuses on understanding the basic principles that enable artificially intelligent systems such as robots and autonomous vehicles to act and learn autonomously in the physical world. To develop self-learning systems for the physical world, Trimpe joins classical methods of system and control theory with machine learning, for example, when devising algorithms that combine physical knowledge of the world with experimental data.
Learning and decision algorithms are essential for the functioning of the cycle of perception-action-learning, which is also known as the feedback control loop. In simple terms, these algorithms are the "brain" of a technical system, and they are at the core of Trimpe's research. Using sensor data, the machine perceives its own state and its environment. Based on this data, a decision algorithm decides what should happen next, and the machine then uses motors and other actuators to take action and achieve a desired goal. This cycle takes place continuously and often many times per second. For example, a car can automatically maintain the distance to the vehicle in front of it, an air conditioning system is capable of guaranteeing a certain temperature, and a robot in Trimpe's laboratory can balance a rod on its own. An important research question is how such machines can learn from experience and interaction with the world in order to enhance their capabilities or improve their performance.
Trimpe also looks at communication between several intelligent systems that want to perform a task together, such as groups of robots. Today, this is often done via wireless networks. When machines are constantly communicating with one another, however, the network is quickly overloaded and important data cannot be transmitted. To solve this problem, Trimpe is developing intelligent procedures that allow each subsystem to communicate only when it has something relevant to say. This makes it possible for many systems to act in concert or learn from each other without using more resources than necessary.
Since Trimpe's research is based on basic mathematical problem descriptions and their solutions, the results are generally valid and could potentially be applied to many different systems in the future. His team has validated theoretical results in laboratory experiments with humanoid robots and wirelessly networked mechatronic systems. In joint projects with the Cyber Valley partners Bosch and IAV, some of the algorithms have successfully been applied in industry. For example, the same algorithm used by the robot Apollo to learn how to balance a rod was also used to learn how to control a throttle valve in the automotive industry (collaboration with IAV).
Related Articles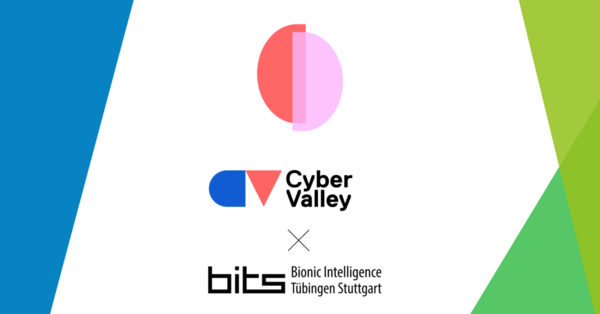 18.10.2023
Biointelligent systems for diagnosis and treatment of everyday neurological and mental ...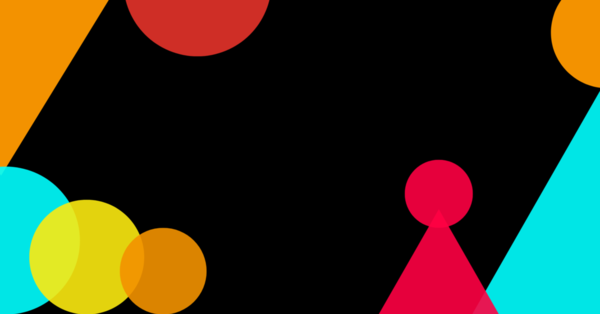 29.09.2023
Everything you need to know from the Cyber Valley Community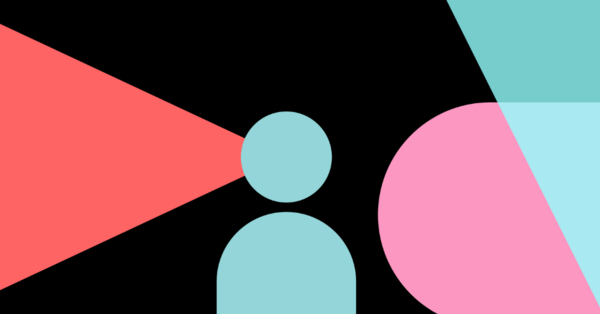 28.08.2023
Everything you need to know from the Cyber Valley community