All Events
1 July 2022 - 3 July 2022 | KI-Makerspace, Casino am Neckar, Tübingen
#SIDays22 – Giving a voice to plants
Introduction to sensor journalism
In this workshop with award-winning science journalist Jacob Vicari, we try to give plants a voice. We use sensors, code and creativity to do so. We'll develop our own networked sensor device, which we'll build, program and test in the AI Makerspace. And we're thinking about what the plants could tell: for example, the story of a strawberry in the field and its relationship with pollinating insects. An expedition into the Internet of Plants. The event will be held in German.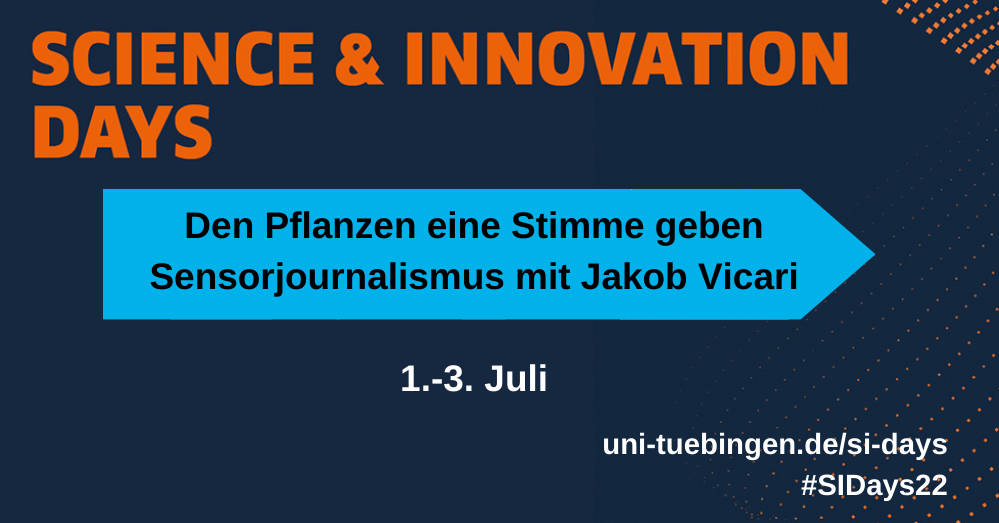 Die sensorgestützte Erhebung von Daten ist ein zunehmend wichtiger Ansatz, der z.B. in der Steuerung komplexer Anlagen und Verkehrsplanung zum Tragen kommt, aber auch im noch jungen Zweig des Sensorjournalismus Anwendung findet. Die Kursteilnehmer lernen die kompletten Schritte eines sensorjournalistischen Projekts. Und wie sich Sensordaten für spannende Geschichten nutzen lassen. Altersempfehlung: 14–17 Jahre.

Workshop-Tage:
1. Juli, 15:00–18:00 Uhr
2. Juli, 10:00–16:00 Uhr
3. Juli, 10:00–15:00 Uhr
Anmeldung
Der Workshop ist ein kostenloses Angebot des KI-Makerspace Tübingen während der Science & Innovation Days 2022. Anmeldungen bitte per Email an hallo@ki-maker.space.
Referent
Dr. Jakob Vicari ist Pionier im Sensorjournalismus. Er studierte Journalistik in München und Genf und wurde zum Thema "Journalistische Komposition" promoviert. Für seine "Sensor-Live-Reportage" wurde er 2015 von einer Jury des Medium Magazins als Wissenschaftsjournalist des Jahres ausgezeichnet. Er produzierte das Sensorexperiment Superkühe für den WDR, ausgezeichnet mit dem Ernst-Schneider-Preis. Für das WDR Sensorexperiment #bienenlive erhielt das Team den Deutschen Reporterpreis. Jakob ist auch Gründer eines Start-ups.