All Events
2 July 2022 • 11:00 - 12:00 | Max-Planck-Institut für Intelligente Systeme, Tübingen
#SIDays22 – What is AI research doing in Tübingen?
Cyber Valley AI talk with Prof. Philipp Hennig
Why is artificial intelligence such a big topic in Tübingen? And what are AI researchers actually working on? Who benefits from this research and what impact do the research results have on society? We clarify these and other questions in a conversation with Cyber Valley co-spokesperson Philipp Hennig, Professor of Machine Learning Methods at the University of Tübingen. The event will be held in German.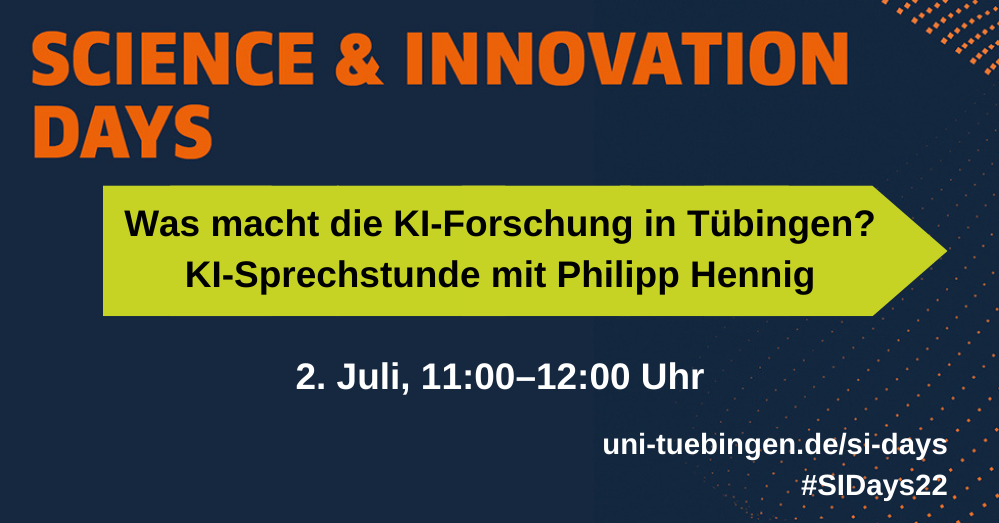 Die Cyber Valley KI-Sprechstunde ist eine gute Möglichkeit, sich allgemeinverständlich aus erster Hand über KI und intelligente Systeme zu informieren. Sie können Forschende direkt kennenlernen und müssen kein Vorwissen über KI mitbringen – melden Sie sich an und schalten Sie sich einfach dazu! Die KI-Sprechstunde am 02. Juli, 11:00 Uhr, ist kostenfrei, auf deutsch und findet in Präsenz im Garten des Max-Planck-Instituts für Intelligente Systeme statt. Die Veranstaltung ist Teil des regulären Cyber Valley Public Engagement Angebots.
Anmeldung
Wenn Sie sicher einen Platz haben möchten, melden Sie sich für diese Veranstaltung bitte per Mail bei Patrick Klügel an: Patrick.Kluegel@cyber-valley.de. Für Restplätze werden am 2.7. ab 10:45 Uhr am Infostand vor dem Max-Planck-Institut für Intelligente Systeme Karten ausgegeben.
Im Rahmen der Science & Innovation Days 2022 gibt es am Samstag, 2. Juli, einen Tag der offenen Tür auf dem Max-Planck-Campus Tübingen. Die Max-Planck-Institute für Biologie, für biologische Kybernetik und für Intelligente Systeme sowie das Friedrich-Miescher-Laboratorium präsentieren sich der Öffentlichkeit: Wir laden alle Interessierten von nah und fern herzlich ein, Einblicke in die aktuelle Forschung und die Arbeit in unseren Einrichtungen zu gewinnen. Bei Rundgängen, Ausstellungen und Mitmach-Angeboten wird sich alles um die Themen Genetik, Evolution, Hirnforschung und künstliche Intelligenz drehen.