All News
13 May 2022 | Stuttgart
Rebecca C. Reisch new Cyber Valley Managing Director
Science Minister Bauer: "Cyber Valley GmbH a central hub in the network"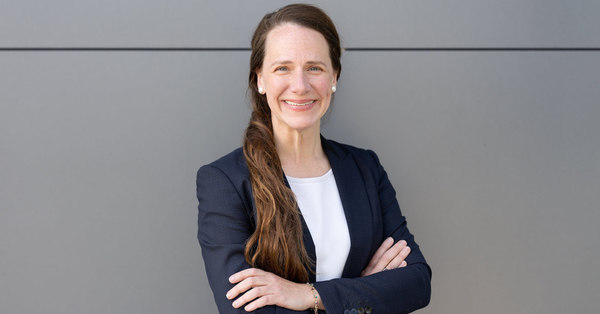 Rebecca C. Reisch becomes first managing director of Cyber Valley GmbH © Cyber Valley/Wolfram Scheible
Five years after the launch of the research consortium in the Stuttgart-Tübingen region, Cyber Valley is embarking on the next phase in the AI ecosystem's development with the establishment of Cyber Valley GmbH. Rebecca C. Reisch has been appointed to be managing director as of June 1, 2022. As an experienced founder and executive, Reisch will be responsible for all Cyber Valley GmbH activities in the future. The shareholders of Cyber Valley GmbH are the state of Baden-Württemberg and the Max Planck Society.
"Cyber Valley GmbH keeps the AI ecosystem together with all its players, establishes ties with society overall, connects various target groups and offers a series of exciting events. In this way, Cyber Valley also advances the public dialogue on artificial intelligence as one of the key technologies of our time, that affects each and every one of us," said Science Minister Theresia Bauer in Stuttgart on Friday, May 13.
Finance Minister Dr. Danyal Bayaz said "Cutting-edge research is part of our state's DNA. Artificial intelligence can become a future source of our prosperity. A well-connected and experienced managing director like Rebecca Reisch is a stroke of luck for Cyber Valley GmbH."
Cyber Valley gains entrepreneurial and commercial competence in Rebecca Reisch. The 41-year-old from Stuttgart is also very well connected in the start-up and venture capital scene. In addition to cutting-edge scientific research, promoting top talent and raising the profile of the Stuttgart-Tübingen region, Reisch will focus in particular on innovation and entrepreneurship.
"With Rebecca Reisch as Cyber Valley Managing Director, we have added an experienced leader who can advance the vision of Cyber Valley as a leading hub for research and entrepreneurship in AI. She is the ideal leader to grow Cyber Valley into the engine of a new AI economy," said Michael J. Black, Cyber Valley spokesperson and Director at the Max Planck Institute for Intelligent Systems (MPI-IS) in Tübingen. "We have already established Cyber Valley as a permanent home for world-class AI research – and now Cyber Valley is becoming the platform where cutting-edge research, spin-offs, SMEs and industry are even more closely connected. The focus now is increasingly on making Cyber Valley the best place to start new AI-focused businesses that leverage the ecosystem."
"Artificial intelligence is not just for start-ups and large corporations; mid-sized companies can also ensure their competitiveness by embracing intelligent systems now," Rebecca Reisch said, "The foundations have been laid. Together with my team, I would like to continue Cyber Valley's success story to date. Continuously advancing the networking of AI research with business is our goal. Entrepreneurship is my passion."

Additional information
Rebecca C. Reisch
Reisch was most recently deputy managing director at nexMart. There, as Director of Customer Success & Operations, she was responsible for project and process management, data intelligence, connectivity and customer support & solutions. She is also a certified coach for teams and individuals with a focus on leadership and entrepreneurship. With first-hand experience in start-ups, Reisch brings in perspectives not only from the outside but also from the inside of start-up culture to the Cyber Valley ecosystem. In 2002, she earned a Master of Business Administration (MBA) from the Katz Graduate School of Business in Pittsburgh, USA, and in 2003, she graduated from the European Business School in Oestrich-Winkel, Germany, with a degree in business administration.
About Cyber Valley
Cyber Valley is Europe's largest research consortium in the field of artificial intelligence with partners from science and industry. The state of Baden-Württemberg, the Max Planck Society with the Max Planck Institute for Intelligent Systems, the Universities of Stuttgart and Tübingen, as well as Amazon, BMW AG, IAV GmbH, Mercedes-Benz Group AG, Dr. Ing. h.c. F. Porsche AG, Robert Bosch GmbH, and ZF Friedrichshafen AG are Cyber Valley's founding partners. In 2019, Fraunhofer-Gesellschaft also joined Cyber Valley as a partner. Moreover, Cyber Valley also receives support from the Christian Bürkert Foundation, the Gips-Schüle Foundation, the Vector Foundation, and the Carl Zeiss Foundation.
The Cyber Valley research consortium celebrated its fifth anniversary last December – and can point to numerous milestones in its development: These include the ever-growing number of researchers in the ecosystem, the expanding start-up and investor networks, and the dialog formats from the public engagement and innovation management sectors that are enjoying ever-increasing popularity.
Cyber Valley GmbH
Cyber Valley GmbH was founded at the turn of the year 2021/22 by the shareholders, the state of Baden-Württemberg (51%) and the Max-Planck-Gesellschaft zur Förderung der Wissenschaften e. V. (49%). Its purpose is to strengthen, develop and publicize Cyber Valley and its locations in Stuttgart and Tübingen as an internationally prominent innovation campus for artificial intelligence and robotics, and to connect the players with each other and with third parties. This management unit will not be active in science, but will take on marketing and support tasks in particular. It is mainly financed by the state.
Related Articles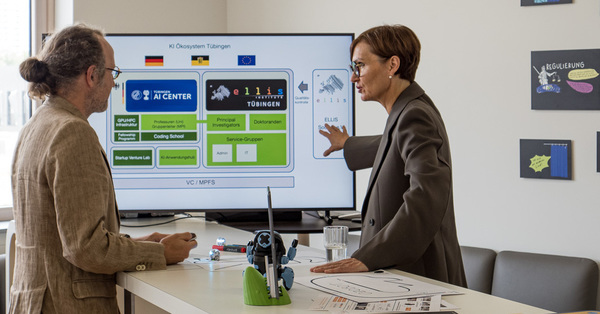 08.11.2023
AI excellence meets international reach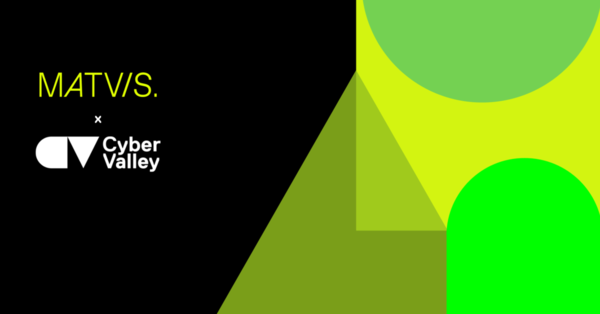 31.10.2023
Driving sustainable AI solutions through simplified compliance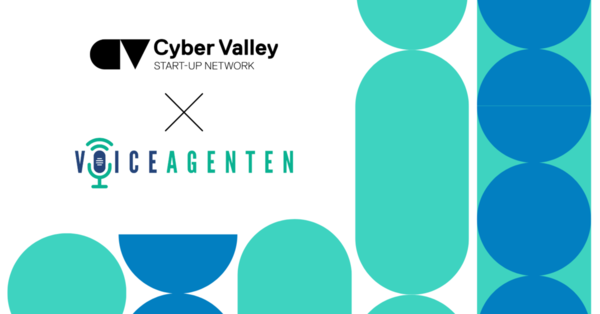 30.10.2023
Cyber Valley Start-up Network welcomes new member