All News
2 November 2023 |
Fact-checking and disinformation in the age of AI
Cyber Valley interview with Journalist-in-Residence Elena Riedlinger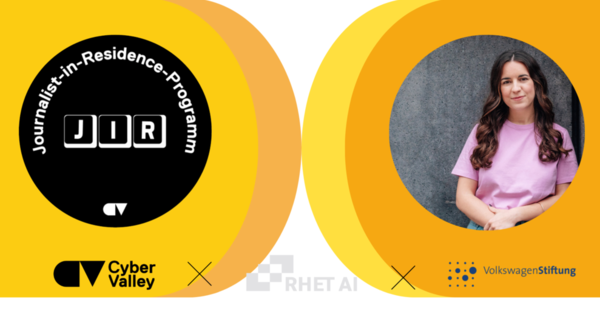 From October 2023 until January 2024, Elena Riedlinger is one of two journalists taking part in the Journalist-in-Residence program.
Elena is currently an editor at WDR in Cologne. Her experience as a data journalist and in digital product development means that she can work at the interface between journalism and IT. Together with Stefan Domke, she recently led the Grimme Online Award-winning app and web project "Stolpersteine NRW – gegen das Vergessen" 
During her residency, Elena will undertake independent research on the impact of intelligent systems on today's society. The residency grants journalists unrestricted access to Cyber Valley's Community so they can explore the interplay between journalism and intelligent systems and find the best approach to producing well-researched journalism that inspires public interest. She will explore the capabilities of AI-powered tools that can verify content and ensure the reliability of information for editorial work. The Cyber Valley team took this opportunity to find out more about what Elena hopes to achieve during her residency. 
What sparked your interest in AI? 
My work takes place at the interface between journalism and IT, which means I come into contact with the topic of AI time and again. However, I have noticed that I don't have enough time in my day-to-day editorial work to deal intensively with the possibilities of AI. That's what I want to do now at Cyber Valley.  
Why do you think reporting on AI is important? 
AI is already influencing our everyday lives in many ways – without most people being aware of it. I think it's important to educate and inform people about the topic so that we as a society can have important discussions about the use of AI. 
To what extent do you think AI impacts society? 
The influence of AI on society will certainly continue to increase. The issue of disinformation is an example of this. The problem has existed for a long time, but new AI technologies are making it worse. We have to deal with such risks as a society. 
How would you describe your knowledge and experience of AI?  
I have a basic understanding of what machine learning is about, but my experience is limited to that of a user, for example, of a very useful translation software.
What is your main focus for this residency? 
I want to find out whether AI tools can help journalists with fact checking – and, above all, learn a lot of new things in the process. 
What are your expectations? What do you hope to accomplish? 
I am most looking forward to the exchange with the scientists who deal with the topic of AI from very different perspectives and would be happy if what I learn here can in turn help others in the end. 
 
Cyber Valley wishes Elena a successful residency. This is the fourth iteration of the Journalist-in-Residence program. It is organized in cooperation with RHET AI Center and is funded by the Volkswagen Foundation. For queries regarding the program, please contact Hazel Rowland (Media Manager) at hazel.rowland@cyber-valley.de. 
Related Articles
02.11.2023
6 Questions for Cyber Valley's Journalist-in-Residence Tobias Asmuth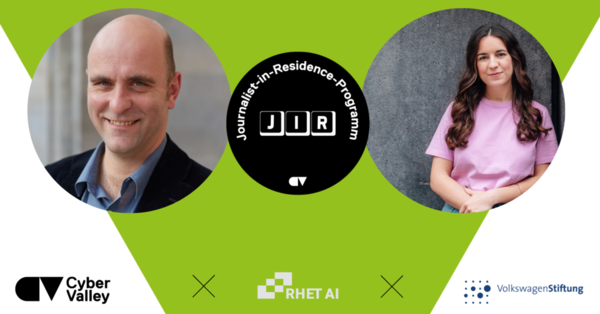 26.09.2023
Examining the impact of media reporting on artificial intelligence


03.03.2023
Next round of Cyber Valley program for AI and journalism begins