Alle Events
17. Juni 2021 • 14:00 - 15:30 | Virtual Event
HR and Talents
Entrepreneurship Series
Ohne Zweifel ist das Personalwesen einer der wichtigsten Erfolgsfaktoren für jedes Unternehmen. Gerade für junge Start-ups mit knappen Budgets kann es eine Herausforderung sein, qualifizierte Mitarbeiter:innen zu rekrutieren und zu binden. Mit Unterstützung von Experten:innen aus dem Cyber Valley Start-up Network und der Industrie wird sich die nächste Workshop-Ausgabe der Entrepreneurship Series daher mit dem Thema "HR and Talents" für Tech-Start-ups beschäftigen. Erfahrene Referenten:innen werden ihr Wissen und ihre Erfahrungen zu diesem Thema teilen.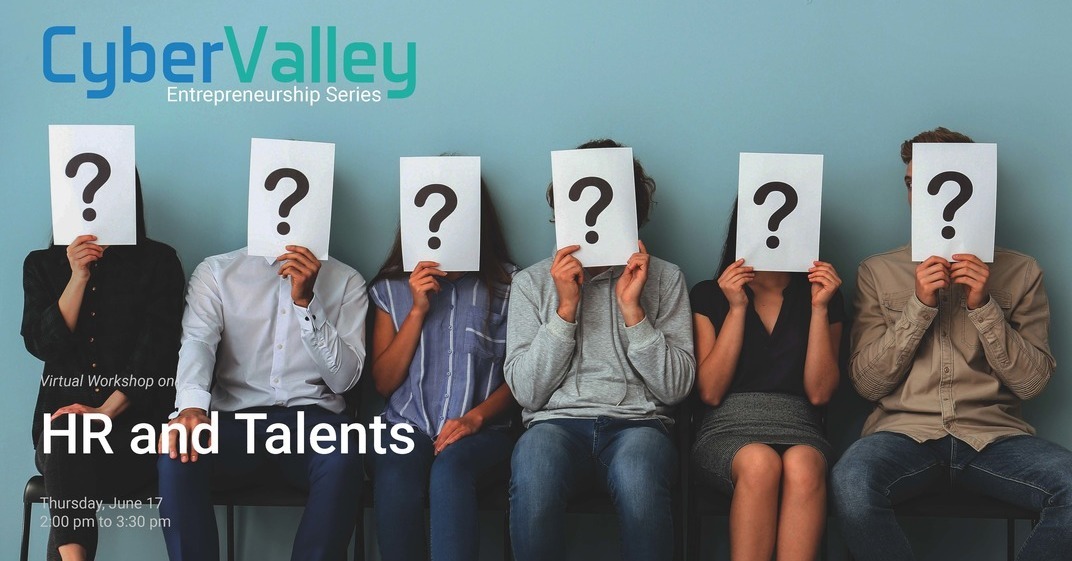 Wissenschaftler:innen, Gründer:innen, Studierende und alle, die sich für dieses Thema interessieren, sind am Donnerstag, 17. Juni, von 14:00 bis 15:30 Uhr herzlich eingeladen!
Speakers
Talent Attraction Experience Manager, SAP
Head of Talent, MARKT-PILOT
CEO, Meshcapade
Registrierung
Bitte hier registrieren. Das Meeting findet via Zoom und in englischer Sprache statt.
Kontakt
Oliwia Gust – Cyber Valley Event Manager
Telefon: +49 7071 601 1554
Mobil: +49 151 4075 6302 
E-Mail: oliwia.gust@cyber-valley.de